Estero resident David Van Sleet keeps amputee baseball team running and thriving
August 14, 2023
/
/
Comments Off

on Estero resident David Van Sleet keeps amputee baseball team running and thriving
When they hear a spin to the saying "I'd give an arm or leg to be on a baseball team," members of the Louisville Slugger Warriors Amputee Baseball Team smile or chuckle.
They chuckle because that's part of the dark humor they have unleashed on teammates, and they smile that losing an arm or leg or their hearing has given them the privilege of being part of a close-knit ball club.
They also chuckle because foes who underestimate them can expect a whipping, according to pitcher Matt Kinsey.
"These are 12, 15 alpha dogs who have gone through more than what most people can imagine," added Kinsey, a former Army sergeant and infantry paratrooper.
The Louisville Slugger Amputees are not just a feel-good story. The roster has pitchers who throw 90 mph, batters who drive balls over fences or into gaps, and runners who take extra bases. In the meantime, they're battling through cramps, torn ligaments, and leaving their prosthetic arms on bats after hits.
All the while, they laugh through the pain and embarrassing moments to the hilarious delight of teammates on the bench and audible gasps in the stands.
The beginning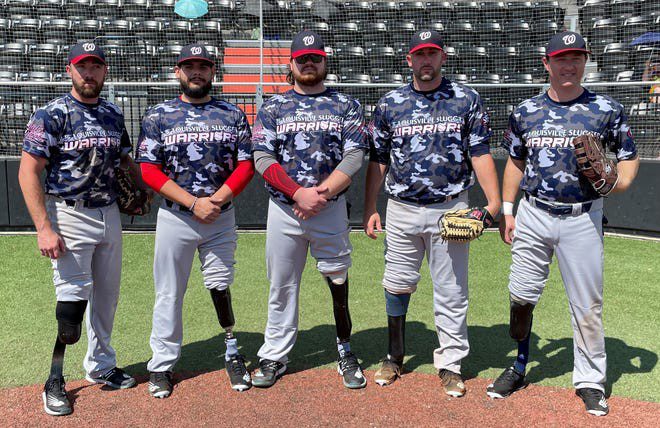 For 30 years, Estero's David Van Sleet worked with the Department of Veterans Affairs on prosthetics, first operationally, then administratively.
When he retired in 2011, Van Sleet started a non-profit amputee softball team that evolved into The Louisville Slugger Warriors National Amputee Baseball Team. He held a national tryout on Jan. 13, 2018, at The Ballpark of the Palm Beaches, the spring training home of the Washington Nationals.
Through players' recommendations, word-of-mouth, and Google searches, Van Sleet and manager Curtis Pride put together their team.
"We'd bring them on a trip and really evaluate them," Van Sleet said. "We also look for chemistry, are they able to work with everybody else on the team?"
Some of the players used to be veterans who lost limbs in Afghanistan and Iraq. While there are six service-connected veterans, there are eight players
who have congenital birth defects, a player who can't speak or hear, a player who had a traumatic accident, and another who had a medical situation. Six of the players are under the age of 25.
"It's amazing, they're coming out of the woodwork," Van Sleet said. "One player, Rocky Lorenzo, had a cyst that infected his knee and led to an amputation."
Approximately 2.1 million people in the United States are living with limb loss, according to Access Prosthetics, and that number is expected to double by 2050. While 45% comes from trauma, 54% comes from vascular disease. A total of 120,000 babies each year have birth defects, which can affect limbs.
Adjusting to take the field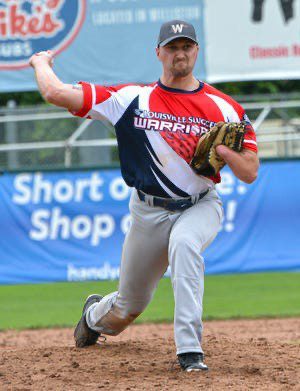 Growing up differently has also allowed some players to shake off surprising moments on the field.
"When I played as a youth, after I hit, sometimes my prosthetic arm hung on the bat," Parker Hanson said. "When we're playing a new team, all the parents would say 'My gosh.' My mom would just go out on the field, pick up the arm and bat and say, 'There goes another one.'"
Catcher Carlo Adame needed a right foot after repetitive-use injuries that included an attack during a military operation in Sadr City on the eastern side of Baghdad and a motorcycle accident where he hit a deer.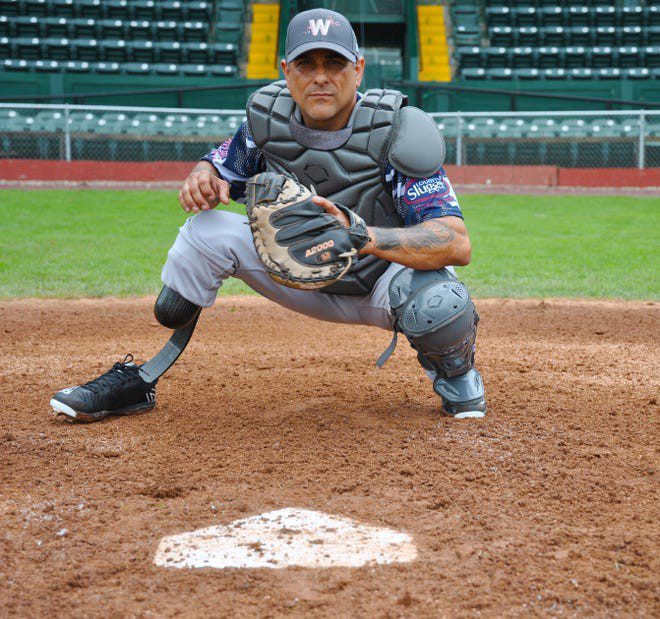 "The lights went out and we were having things thrown at us," said Adame of his injury sustained in Iraq. "I turn my light on and my ankle is broken by a (thrown) carburetor. You've got to be kidding me."
While they can be brutally tough on teammates, there also is mutual respect and empathy among the players.
Those with lower-body injuries say they can't imagine those with birth defects having to deal with psychological issues as a child and trying to blend in with those who saw them as being different.
"I have a paper cut compared to them," Brittain said while Adame added, "I'd rather lose my leg than an arm."
Meanwhile, those with birth defects say their challenges are all they've known.
"Parker (Hanson) and I are in the same situation," said Colton DeRocher, who like Hanson was born without a left hand. "We've been used to this for 20 years. We didn't have to relearn anything. They've lost a limb and even on an artificial leg, they compete at a high level."
Hanson added, "You've got to put it into perspective. They served our country and got blown up or they had cancer or a farming accident."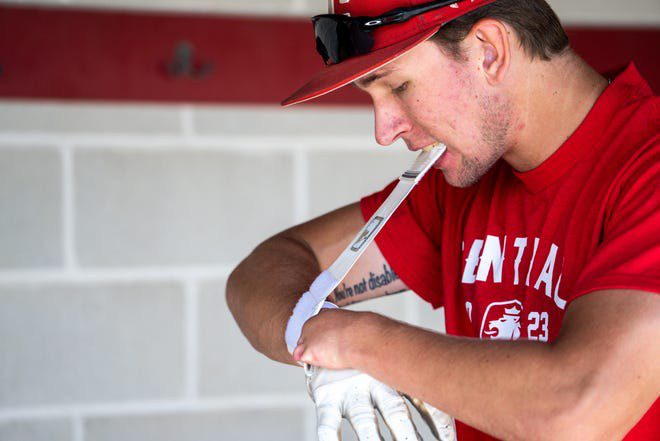 DeRocher and Hanson have more in common than a missing hand. Hanson, 26, lives in Sioux Falls, S.D., while DeRocher, 22, grew up in Sioux City, Iowa. They became top hitters on their high school teams, which led to them playing college ball.
Naturally, they're roommates.
"He's a younger version of me," Hanson said. "Same personality. When I was his age, I was a little arrogant as well.
"The first time we met, we hit it off. It's big brother, little brother. We try to one-up each other and we do it with nice, friendly smack-talking."
Back on the field
Once he realized he wouldn't die, then went through 14 hours of surgery to have his left hand reattached after nearly having it sliced off by a lawn mower blade, Brittain had a singular focus: "As soon as I get out of here, how do I get back on the baseball field?"
The Canton, Ohio native went through six more surgeries, two years of rehabilitation, and three years without baseball. The first time he stepped over the lines and returned to his first base position in 2021, it took him a game to settle in.
"When I got into the locker room, I broke down," he said. "As much faith as I had, I never saw it becoming a reality. And then my daughter being able to watch me for the first time. … It was just like when I watched my dad."
A year later, Van Sleet gave him a call.
"I downplayed it," Brittain said. "I said, 'David, I can really play.' He said, 'We have two pitchers who can touch the 90s (mph). I said, 'Oh, OK.' "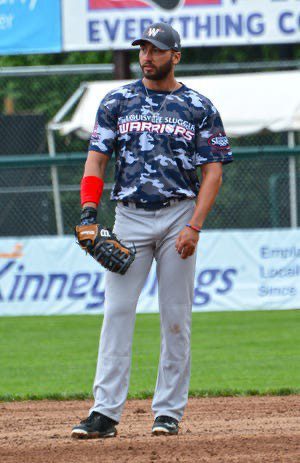 For a couple of days after a land mine took off the front of his right foot on June 2, 2010, Kinsey wondered what the future would hold for not only his military career but his competitive spirit.
Then he visited Walter Reed Hospital's Military Advanced Training Center, or MATC for short. Using prosthetics, amputees ran or trained to be Paralympians or snowboarders.
"You just had to find the thing the thing that drives you," Kinsey said.
Nine months later, his parents Sherry and Mark crying, Kinsey played his first baseball game. A year after, Van Sleet called and invited him to join the team.
One of two players to transition from the softball to the baseball team in 2018, Kinsey has played in numerous states, earned MVP in tournaments, and has spoken to dozens of athletes who are missing limbs.
"Eight-year-olds are seeing us kicking ass," he said. "We have a chance to make a difference."
One with his players
The coach is just like his players.
Pride, 55, didn't let being deaf stop him from playing in the Major Leagues from 1993-2006. His best year came when he hit .300 with 10 homers, 31 RBI, and 11 stolen bases for the Detroit Tigers in 1996.
Players have chided him for not realizing how loud he can get while yelling "Back, back, back" to the only player on the team who can't hear or speak, outfielder Kyle Gumm. Normally, Pride communicates with players by reading their lips.
"Yes, yes, we all bust each other's chops," he said with a laugh.
After playing in a softball game against them, "I was so impressed that I had to get involved somehow, someway," Pride said. "These guys don't let anybody stop them from doing what they want to do."
Involved with the Warriors since 2018, Pride guided the team to a championship in a Men's Senior Baseball League Tournament in Las Vegas.
"Best feeling in the world," he said. "We were the only team with disabilities and we won it. That sort of was a validation.
"It's been an incredible experience coaching these guys. I've learned a lot from them and they're a great inspiration."
Lots of support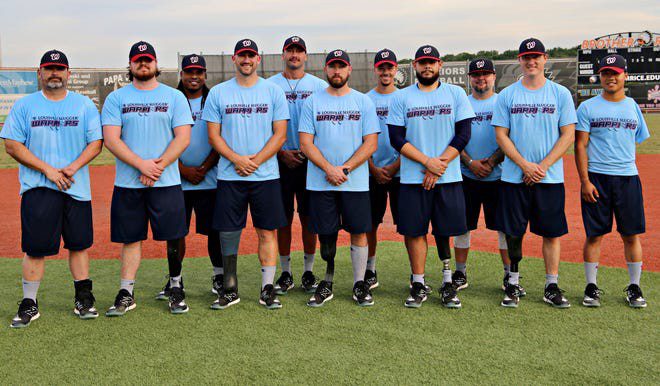 MSBL President Steve Sigler, whose daughter is Jamie Lynn Sigler of 'Sopranos' fame, oversees an organization that has more than 3,500 teams playing in various cities across the country.
Sigler is no-nonsense. His answers are short and to the point. But when he talks about the Warriors, he opens up.
His teams not only play against the Warriors but have donated thousands of dollars over the past eight years.
"It's an inspiration to see them play," he said. "When the veterans and players are introduced, everyone stands up. They make you feel patriotic.
"It's a great feeling, like when veterans are acknowledged at New York Rangers games. You don't get that a lot anymore."
Louisville Slugger, Demarini, EvoShield, and Wilson Sports entered the picture in Dec. 2010 when the team was still playing softball.
"When we transitioned to baseball, that was really in their wheelhouse," Van Sleet said.
Those companies supply Major League quality bats, balls, equipment, and gloves.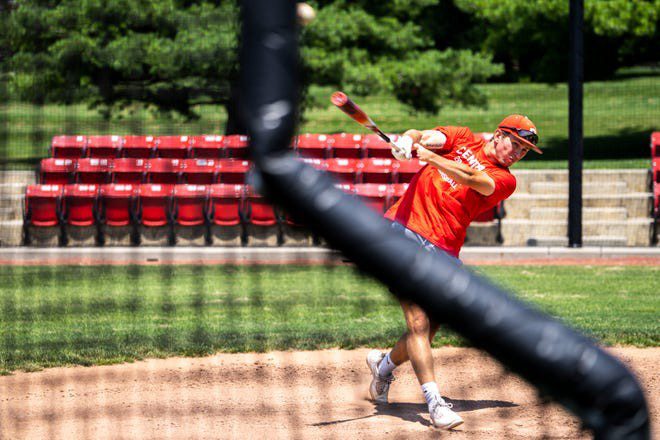 Through Louisville Slugger's Bourbon Distillery, Barrels & Billets, a couple of players have become pitchmen. The Warriors' Kinsey and Hanson were invited to Louisville to take part in blending a bourbon they endorse.
Their brand is called 'Against All Odds.'
"It's great by the glass or on the rocks," Kinsey said.
Pride added, "We sold 40 bottles in the first week."
Jimmy Buffet and his Margaritaville company – a U.S.-based hospitality business that is just about to open on Fort Myers Beach – has been a sponsor along with actor Bryan Cranston.
Cranston played the game and his production company Moonshot Entertainment is based on an early interaction with player Wally Moon. In addition, he regularly has supported causes involving American veterans. In 2013, Cranston flew the team to Albuquerque, N.M. on his dime for a tournament.
With a three-day regional tournament trip costing approximately $15,000 and a week tournament costing $30,000, yearly expenses run about $100,000.
Through grants from The Hangar Clinic and donations from MSBL, companies and individuals, expenses are met.
Van Sleet also receives community service work hours from Florida Gulf Coast University students.
"I've played a lot of baseball in my life and this is some of the most fun baseball," Hanson said. "I hear the stories and that inspires and motivates me.
"And I still like proving people wrong."
Louisville Slugger Warriors National Amputee Baseball Team
General manager: David Van Sleet, Estero; Manager: Curtis Pride, Wellington; Pitching coach: Len Whitehouse, Burlington, Vt.
Roster: C Shan Donovan Fargo, N.D.; OF Ryan McIntosh Highland, Utah; IF Kenny Celeste Swanton, Vt.; IF/DH Derrick Victor Crestview; IF/P Matt Kinsey New Albany, Ind.; IF/P D.J. Vanderwerf Lenoir City, Tenn.; P Rocky Lorenzo Tempe, Ariz.; OF/P Parker Hanson Sioux Falls, S.D.; 1B Danny Williams Tucson, Ariz.; IF/OF Derek Holcomb Little Rock, Ark.; 1B/OF Luke Brittain Canton, Ohio; OF Colton DeRocher Sioux City, Iowa; C/IF Carlo Adame Rolla, Mo.; P Josh Stevens Huntsville, Ala.; P/1B Michale Came Olympia, Wash.; OF Kyle Gumm Austin, Texas; UTL Lonnie Gaudet Brookfield, Mo.